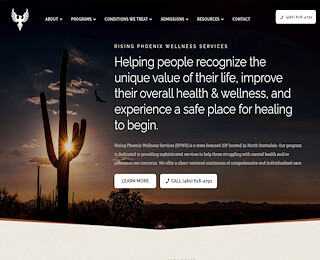 Rising Phoenix Wellness Services ranks among the most reliable rehabilitation facilities in the business. Our Arizona treatment center offers detox and dual diagnosis treatment, inpatient and outpatient drug treatment in Scottsdale, and Alumni services for those who need them. If you're an addiction victim, our facility is ideal for fast recovery and sustainable results over the years.
How to qualify for the outpatient program?
Our Arizona addiction recovery center takes in patients dealing with various addictions and mental health problems. To qualify for the outpatient program, you must first undergo detox and stabilization in an inpatient environment. Once completing the inpatient program, you will begin outpatient care since you no longer require 24/7 supervision and support.
Does the outpatient program offer individual therapy?
Yes, it does. You will have weekly individual therapy sessions to participate in, along with group meetings, depending on your needs. These programs will help you become more confident, socially active, and with higher levels of self-esteem and positivity.
Will the outpatient program involve drug or alcohol testing?
It depends from case to case, but generally, yes. The goal is to make sure you remain sober and on track even after completing our inpatient Scottsdale drug and alcohol treatment. Based on that idea, we regularly perform drug and alcohol tests according to your case's requirements and needs.
What happens during the outpatient program?
Unlike the inpatient treatment, the outpatient program no longer requires you to remain in our Scottsdale addiction treatment center for the entire duration of the program. You will only need to come to our center for treatment, therapy, and testing weekly, after which you can return home. The program involves several recovery procedures, including individual therapy, group therapy, medication management, drug and alcohol testing, psychiatric re-evaluations, etc.
Will the outpatient program help me escape addiction?
The best answer here is "it depends." It depends on the substance you're using, how severe your addiction is, and your overall health status. Generally, just like inpatient treatment, the outpatient program is just a transitionary form between intensive care and a lower-intensity treatment. In our facility, we use the outpatient program as a transition treatment between inpatient care and Alumni, which functions as a comprehensive and structured aftercare program. Ideally, the outpatient program needs to work in tandem with other rehabilitation treatments to provide the fastest and most reliable results. It might not cure your addiction, but it will definitely contribute to it.
Do you offer insurance coverage?
We work with most major insurance providers, including Aetna, Cigna, United Healthcare, BlueCross BlueShield, Humana, etc. Our goal is to make our Scottsdale rehab for addiction treatment as widespread and as affordable as possible. If you want to learn additional information about our outpatient drug treatment in Scottsdale, contact our counselors today!
At Rising Phoenix Wellness Services, we offer unbeatable mental health support and substance addiction treatment in a state-of-the-art facility. Call 480-589-0895, talk to an expert, and we'll take your case immediately! It's time to leave addiction behind and embrace a healthy, clean, and fulfilling life today!